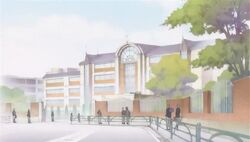 Tonan High School (斗南高校 Tonami Koukou) is the high school from the main characters and where the story begins.
Itazura na Kiss (1996)
Edit
Kinnosuke Nakamura
Reiko Matsumoto
Satomi Hayashi
Junichi Watanabe
It Started with a Kiss
Edit
Yuan Xiang Qi
Jiang Zhi Shu
Jin Yuan Feng "Ah Jin"
Lin Chun Mei
Liu Ya Nong
A Hong
Zhang Lang
Wang Hao Qian
They Kiss Again
Edit
Playful Kiss
Edit
Oh Ha-ni
Baek Seung-jo
Bong Joon-gu
Jung Joo-ri
Dokgo Min-ah
Hong Jang-mi
Itazura na Kiss: Love in Tokyo
Edit
Kotoko Aihara
Naoki Irie
Jinko Komori
Gintaro
Dozo
Watanabe
Itazura na Kiss 2: Love in Tokyo
Edit
Theraphat "Taliw" Ingkuranon
Thatrapee "Tenten" Warophat
King
Paew Weaw
Yuyi
Varoj "Arm" Mutbuakheaw
Itazura na Kiss The Movie: High School-Hen
Edit
Kotoko Aihara
Naoki Irie
Kinnosuke Ikezawa
Satomi Ishikawa
Jinko Komori
Watanabe
Miss In Kiss
Edit
Xiang Yue Qin
Jiang Zhi Shu
Jin Zhi Zhu "Ah Jin"
Shi Li Mei "Mei Mei"
Lin Xiao Sen
Du Ya Jun
Ad blocker interference detected!
Wikia is a free-to-use site that makes money from advertising. We have a modified experience for viewers using ad blockers

Wikia is not accessible if you've made further modifications. Remove the custom ad blocker rule(s) and the page will load as expected.